IndianOil fuels Cheetah's arrival to India after 70 years
New Delhi 15-Sep-2022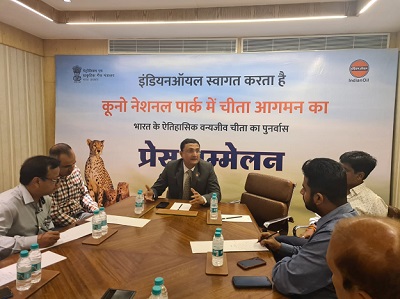 In a historic first, IndianOil has collaborated with the National Tiger Conservation Authority (NTCA) for the transcontinental relocation of 'Cheetah' in its historical range in India. The first Cheetahs, flown in from Namibia, will be released in the Kuno National Park in Madhya Pradesh in the presence of Hon'ble Prime Minister Shri Narendra Modi on 17th September 2022. IndianOil will contribute Rs.50.22 crore over five years for the project components, including Cheetah Introduction, Habitat Management & Protection, Eco Development, Staff Training and Veterinary Healthcare.
The Cheetah introduction project in Kuno National Park involves creating a 500-hectare predator-proof enclosure for a soft release of the feline. Initially, the Cheetahs will be housed in specially designed quarantine enclosures in Kuno National Park for observation from the point of view of health and disease risk assessment. Subsequently, after the post-import quarantine, the animals will be released in larger enclosures for further acclimatization. This release will mark the return of the Cheetah to Indian soil seven decades after it was declared extinct in 1952.
Mr S M Vaidya, Chairman, IndianOil, has said, "IndianOil's environmental leadership extends beyond the confines of business and our recent partnership with the National Tiger Conservation Authority to support the reintroduction of the Cheetah in the country after seven decades cements this resolve. IndianOil is all set to welcome the magnificent Cheetahs back to India, and we will continue to explore more avenues for strengthening our national ecological heritage".
Building on its green momentum, IndianOil has declared its resolve to achieve net-zero operational emissions by 2046. This historic declaration by the country's energy major aligns with India's net zero commitment by 2070, announced as part of the Panchamrit goals by the Hon'ble Prime Minister at the COP-26 Summit last year. IndianOil's decarbonization goals encompass Scope I and II emissions, and the Company envisages an investment of over Rs 2 Lakh Crore to achieve the target. Simultaneously, IndianOil is working tirelessly to empower environmental movements through concerted and focused interventions. The Cheetah introduction project is one such example where IndianOil is leveraging its CSR programs to usher in enduring socioenvironmental changes.
Under the Corporate Social Responsibility initiatives, besides environmental and sustainability, IndianOil is also fueling various education and health care projects. The Company has been at the forefront of steering the 'Skill India' revolution with landmark initiatives like the IndianOil-run Skill Development Institute, Bhubaneswar. IndianOil is also supporting the National TB elimination Programme (NTEP) in each of the 75 districts of Uttar Pradesh and 23 districts of Punjab. The programme's key objective will be to screen and test the entire population of UP and Punjab every year for the next three years to help India eradicate the disease by 2025. Moreover, in the last few years, IndianOil has contributed close to Rs.90 crore to strengthening the Cancer care infrastructure in India.
Dr. Uttiya Bhattacharyya
Executive Director (Corporate Communications)
Indian Oil Corporation Limited