Fuel@Call – Door to Door Delivery of Diesel
IndianOil has developed a cloud - based technology platform for on-demand fuel delivery service for industrial and commercial customers through approved fuel suppliers. The platform has been integrated with various payment options such as Debit/Credit Card, UPI, payment wallets as well as IndianOil's XTRAPOWER Loyalty program. The platform will provide end-to-end fuel (diesel) delivery solution to the customers. The RFID/Geo-fencing/OTP based authorization protocols of the platform will ensure that delivery is made only to the intended customer with complete transparency.
The Fuel@Call technology platform is now available in select markets in the states of Gujarat, Rajasthan, Uttar Pradesh, Maharashtra, Goa, and West Bengal. The Corporation plans to extend the platform to all major industrial and commercial markets by end of FY 2021-22.
Fuel@Call mobile app: Now you can download the app through Google Play Store https://play.google.com/store/apps/details?id=pcx.indianoil.in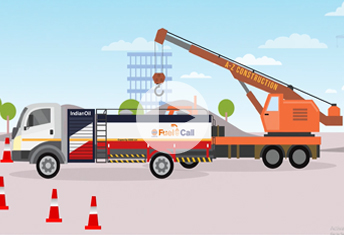 Salient features –
IndianOil approved fuel suppliers
Geo fencing along with OTP based delivery
Easy Signup and enrolment process
Loyalty program benefits
Delivery location management – Manage multiple delivery location orders
Facility to choose supplier – Nearest/cheapest
Order tracking facility – get order confirmation/delivery status on app/SMSs.
Check RSP (daily product price)
Schedule fuel delivery as per convenience
Make Payment (Prepaid/Postpaid using XTRAPOWER loyalty program)
Credit/Debit card payment after delivery.
Invoice for each delivery and online dashboard for reports
Transaction flow

With OTP authorisation
FAQs
Q: What is a Fuel@Call?
Fuel@Call is an initiative from Indian Oil Corporation Ltd for its customers to order diesel at their doorsteps. Customers can order fuel through mobile app and get the fuel delivered at their preferred location with convenience of online and pay on delivery options. The fuel is delivered through mobile bowsers designated by IndianOil.
Q: Is the facility of doorstep delivery of diesel through Fuel@Call app available to all customers?
The facility is presently available to industrial/commercial customers with stationary equipment such as DG sets or equipment used in construction and other activities. This facility is NOT available for refueling of vehicles, as per current statutory norms.
Q: How to book fuel from Mobile App?
Download Fuel@Call mobile app from Google Play Store or App Store, complete basic registration details. An OTP will be sent to the registered mobile number for validation. The registration will be completed once the OTP has been validated.
Log in to the mobile app with your credentials, add your asset details with GPS location and you are good to begin ordering for fuel at your doorstep.
Q: What are the payment options available?
Customers have multiple payment options such as e-wallets, credit/ debit cards, etc. A customer can also use his/her existing XTRAPOWER account as a prepaid/postpaid fuel option. Customers can also opt for Pay on delivery option where he/she can pay through cash or via credit/debit cards.
Q: Is it safe to use Fuel@Call app?
All transactions on Fuel@Call are encrypted at every stage and completely secure.
Q: What if I forget the password?
Click on 'Forgot Password' option on the app
Enter mobile number and submit to generate OTP
Enter the OTP received on registered mobile number
Set the new password
Q: I am unable to place my order. How do I resolve the issue?
Please check the error code or description. You can explain the error to the customer care executive or e-mail the same to the helpdesk with error code or screenshot of the error for any help. The customer care number and email IDs are available under Menu-Support-About Us section of the mobile app.
Q: What happens if my order is cancelled?
In cases of prepaid transactions, the complete amount will be refunded in to XTRAPOWER account if the order is cancelled before dispatch.
If order is cancelled after order is dispatched, cancellation fee of Rs 100/- will be debited from the XTRAPOWER account for prepaid transaction through XTRAPOWER, and the balance amount will be refunded.
In case of postpaid transaction, a cancellation fee of Rs. 100 will be charged to the customer if the order is cancelled after dispatch. The cancellation fee will be accrued till the time it is paid by customer or will be included in next order amount of the customer.
Q: How do I choose my preferred supplier?
Customer will be prompted to choose their preferred fuel supplier, while registering on the mobile app.
Q: How can I track my order?
Order details with current status of the selected order will be displayed under the 'My Order' section of the app.
Q: Why should I register for the IndianOil's XTRAPOWER Loyalty Program?
The XTRAPOWER Loyalty Program offers incentive and several other benefits to the customers. For details visit www.iocxtrapower.com
Q: How is the delivered quantity ensured?
The dispensing unit is certified by the government approved Weights & Measures department. Fuel is delivered to the customer specified locations through Geofencing, only after the customer has been authenticated through OTP/RFID Tag.
Q: How can I reach customer support?
Dial Customer Care Number - 1800 2090 247 and select option 6