Our Vision with Values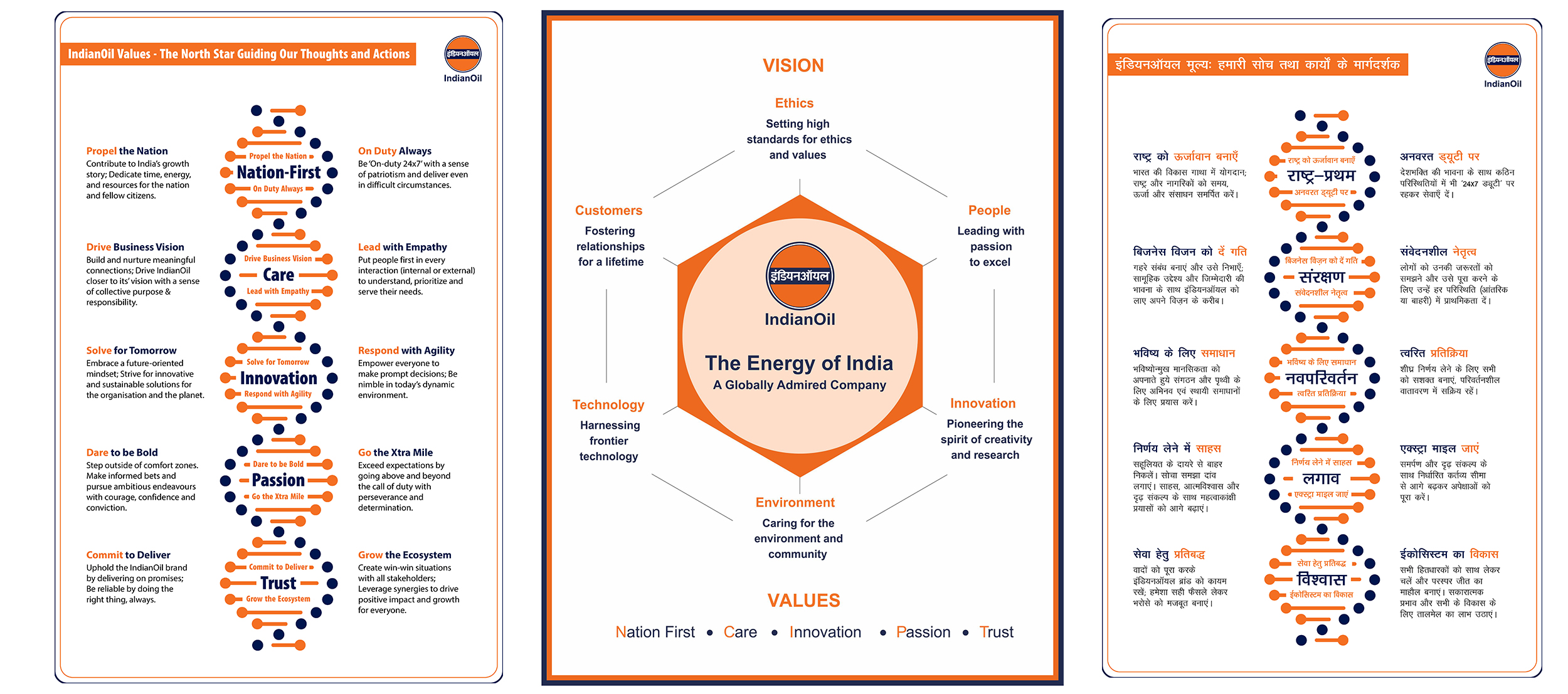 Introduction
Welcome to the heart of IndianOil, where our vision and values converge. Our vision is to be the 'Energy of India' and to become 'A globally admired company.' As we step into an era of transformation, we are broadening our horizons, expanding across new vistas, and infusing new-age dynamism among our employees. Our journey, which began with the merger of Indian Oil Corporation Ltd. and Indian Refineries Ltd. in 1964, has been guided by our core values of Care, Innovation, Passion, and Trust. These values embody the collective conscience of IndianOil and its people, steering us towards our North Star - being the Energy of India and Globally Admired.
Genesis of Project Sattva
In our pursuit to shape India's green future, we embarked on Project Sattva. The name 'Sattva' means 'essence', and this project was all about getting to the essence of what makes IndianOil unique. It was a journey to revitalize our golden values of Care, Innovation, Passion, and Trust (CIPT), and identify what is uniquely IndianOil. This project was a collective effort, with over 20,000 IOCians sharing their voices, experiences, and future aspirations for our company. The project was a deep dive into the soul of IndianOil, a quest to understand our strengths, our aspirations, and our shared vision for the future.
Our New Values:
Project Sattva revealed how deeply ingrained CIPT is for every single IOCian. As we navigate towards the future, it is imperative that we embrace additional values to guide our path. We are introducing our fifth core value – Nation-First. This value embodies our shared sentiment of "Pehle Indian Phir Oil", reflecting our profound sense of duty to serve the nation and its people. We are always on Duty to Propel the Nation. Our golden values of Care, Innovation, Passion, and Trust will continue to be at the core of IndianOil. However, we have augmented their meaning
IndianOil's Rejuvenated Values are:
Nation-First- Always On Duty to Propel the Nation
Care will now mean – Leading with Empathy and Driving Business Vision.
Innovation will stand for - Solving for Tomorrow and Responding with Agility.
Passion will mean going the Xtra Mile and Daring to be Bold.
Trust will be reflected in how we Commit to Deliver and Grow the Ecosystem.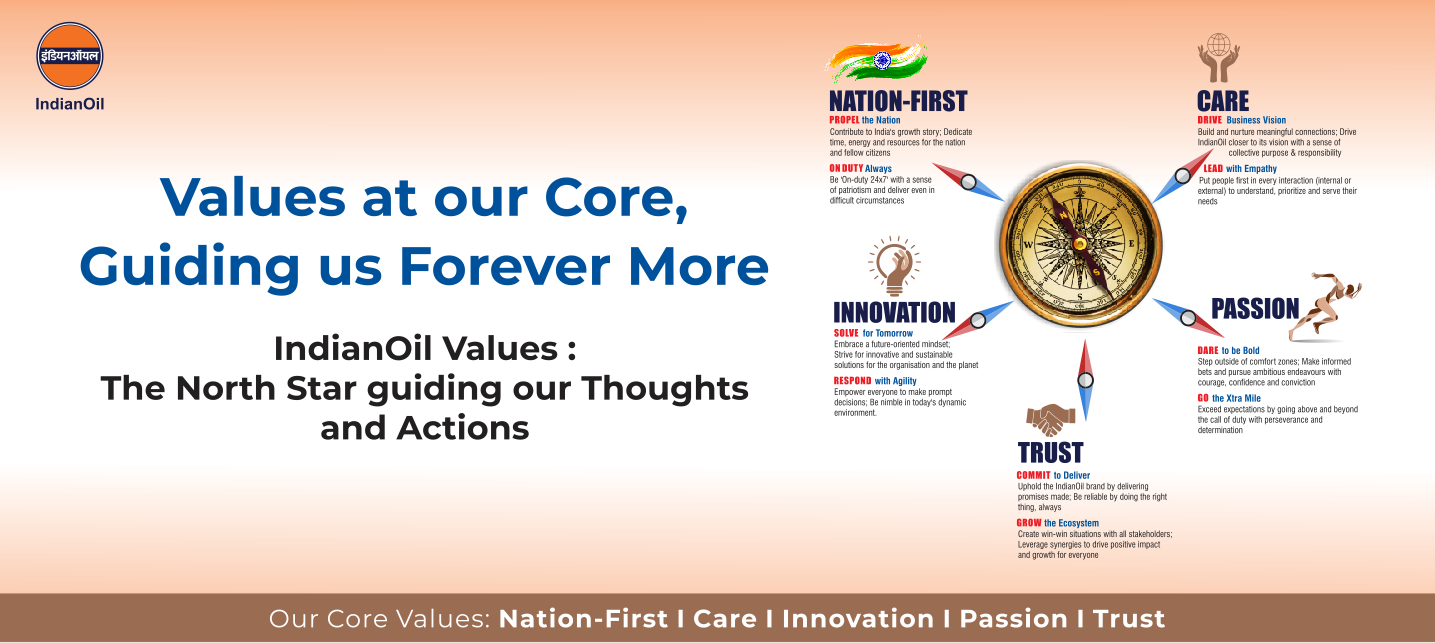 IndianOil Values Day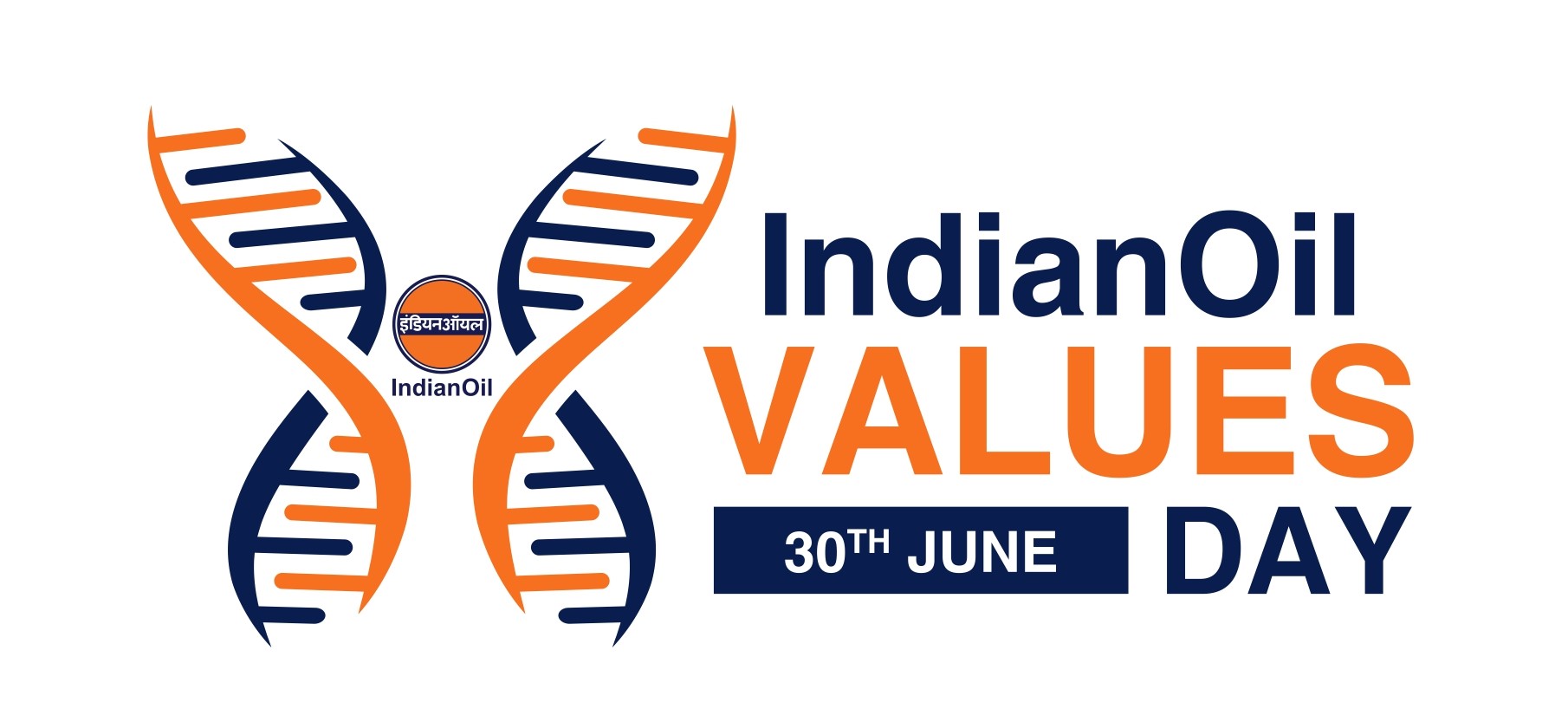 As we celebrate our 64-year journey, we are thrilled to announce that henceforth, the 30th of June will be observed annually as IndianOil Values Day. This day will serve as a platform for us to reaffirm our commitment to our guiding principles, both personally and professionally. This inaugural Values Day is particularly significant as we unveil our new set of core values, developed as part of Project Sattva.
Embodying Our Values
Every IOCian, present and future, must embody these revitalized values that will steer us towards greater heights. We encourage each one of you to reflect on how you bring these values to life every day. This self-reflection and awareness will ensure that our internal compass is always pointed towards our North Star. These new values will also be reflected on our company website as a public commitment to all our stakeholders.
From this day forward, let us recommit ourselves to our values of Care, Innovation, Passion, Trust, and Nation-first with renewed fervor as we embark on this new era. Welcome to the future of IndianOil.