Chhotu 5 Kg Gas cylinder
Having launched LPG (Liquified Petroleum Gas) marketing in the mid-60s, IndianOil has been credited with bringing about a kitchen revolution, spreading warmth and cheer in millions of households with the introduction of the clean and efficient cooking gas. It has led to a substantial improvement in the health of women, especially in rural areas, by replacing smoky and unhealthy chulha with clean cooking gas. Indane is today an ideal cooking gas for modern kitchens, synonymous with safety, reliability, and convenience.
To cater to the evolving demands of the LPG (Liquified Petroleum Gas) users and improve customer convenience, Indian Oil Corporation Limited launched a small cooking gas cylinder also known as Chhotu, 5 Kg FTL (Free trade LPG) cylinder, thus becoming the first PSU Oil Company in the country to replicate the international model of making available cooking gas cylinders from corner stores for the convenience of its customers.
Chhotu, a mini cooking gas cylinder, has been launched especially for catering to migrant population in urban and semi-urban areas who do not have local address proof, people with lower gas consumption, and commercial establishments with limited space.
Customers can avail their Chhotu gas cylinder through our extensive network of Indane distributorships and other points of sales like IndianOil Retail Outlets, select Kirana stores, and select local supermarkets.
Customers can avail a new Chhotu gas connection by submission of identity proof only. Refill can be obtained by visiting any Point of Sale or Distributorships across the country.
Customer can use the Chhotu gas cylinder in any city as per their convenience. If the cylinders are bought from the point of sales, customers will also have the option to buy back with a fixed amount of Rs 500/- per cylinder, irrespective of duration of use.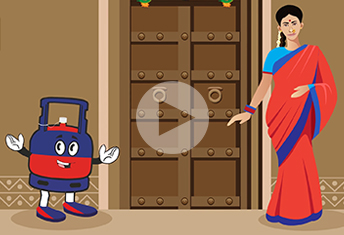 Frequently Asked Questions
1. What is Chhotu 5Kg FTL?
Chhotu 5Kg FTL (Free trade LPG), referred as Chhotu, is a small gas cylinder marketed by IndianOil to cater to needs of its customers.
2. Is address Proof of address (POA) required for purchase of Chhotu gas cylinder?
No. Proof of address (POA) is not required. Customers can avail Chhotu gas cylinders by submitting Govt. recognised Proof of Identity (POI) only.
3. Do I need to give any security deposit for purchase of Chhotu gas cylinder?
No security deposit is required for purchase of Chhotu gas cylinder.
4. Is Chhotu gas cylinder available in my city / where can I get Chhotu gas cylinder?
Chhotu gas cylinder is available in almost every district across the country. You can avail Chhotu from authorized Indane distributor or distributor appointed Point of sales (eg. Kirana store, IndianOil Retail outlets etc.). Please contact your nearest Indane distributor for more details.
5. Can Chhotu gas cylinder be delivered to my home?
Yes. Customers can avail home delivery of Chhotu gas cylinder refill through point of sales by paying additional delivery charge of Rs. 25/refill (as on 01.05.21)