Pipelines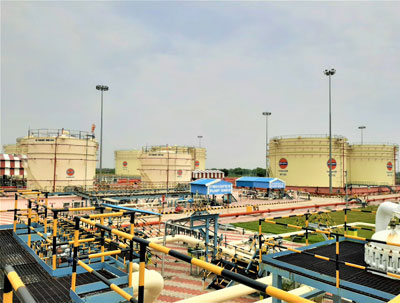 IndianOil operates a network of more than 15,000 km long crude oil, petroleum product and gas pipelines with a throughput capacity of 94.56 million metric tonnes per annum of oil and 21.69 million metric standard cubic meters per day of gas. Cross-country pipelines are globally recognized as the safest, cost-effective, energy-efficient and environment-friendly mode for transportation of crude oil and petroleum products.
As a pioneer in oil pipelines in the country, managing one of the world's largest oil pipeline networks, IndianOil achieved a throughput of 76.019 million metric tonnes during the year 2020-21.
IndianOil added 337 km of additional pipeline length during the year 2020-21, as part of its plans to continuously expand the network in line with growth in business. Projects currently under implementation would further increase the length of the pipelines network to about 21,000 km, and throughput capacity to 102 million tonnes per annum.
With due emphasis being given to scaling up of natural gas pipelines, IndianOil is planning to lay a 1,244 km pipeline to reach LNG imported at Ennore to Nagapattinam, Tuticorin, Madurai and Bengaluru. This pipeline, along with three other upcoming gas pipelines - Mallavaram-Vijaipur, Mehsana-Bhatinda and Bhatinda-Srinagar pipelines would ensure a significant presence of IndianOil in gas transmission business.
Adding another feather to its cap, IndianOil commissioned Motihari-Amlekhganj Pipeline, the first transnational pipeline of the country in July 2019, 8 months ahead of the scheduled completion. The pipeline was jointly dedicated to nation by Hon'ble Prime Ministers of India and Nepal.