Refining Consultancy
As India's flagship national oil company in the downstream petroleum sector, IndianOil accounts for nearly half of India's petroleum products market share, 32.36% national refining capacity and 71% downstream sector pipelines throughput capacity.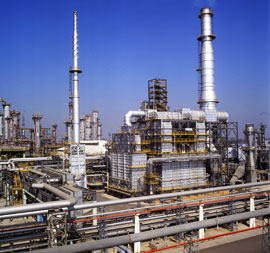 At present, IndianOil controls 11 of India's 23 refineries with a combined refining capacity of 80.7 MMTPA (million metric tonnes per annum), i.e., approx. 1.60 million barrels per day. The strength of IndianOil springs from its experience of operating the largest number of refineries in India and adapting to a variety of refining processes along the way.
Having absorbed state-of-the-art technologies of leading process licensors like UOP, Chevron, IFP, Stone & Webster, Mobil, Haldor Topsoe, KTI/Technip, Linde, CD-Tech, Stork Comprimo, etc., IndianOil in an excellent position to offer O&M services for latest technologies such as distillate FCCUs, Resid FCCUs, hydrocrackers, reformers (both semi-regenerative and continuous catalytic regeneration types), lube processing units, catalytic de-waxing units, cokers, coke calciners, visbreakers, merox, hydro-treaters for kero and gasoil streams, etc. IndianOil refineries also have units for producing specialty products such as bitumen, LPG, MTBE, Butene-1, Propylene, Xylenes, Di-Methyl Terephthalate (DMT), and other petrochemicals like Linear Alkyl Benzene, Paraxylene (PX), Purified Terepthalic Acid (PTA), High Density Polyethylene (HDPE), Linear Low Density Polyethylene (LLDPE), Polypropylene (PP), Mono Ethylene Glycol (MEG), Styrene Butadiene Rubber (SBR) etc.
IndianOil has commissioned several grassroots refineries and modern process units. Procedures for commissioning and start-up of individual units and the refinery have been well laid-out and enshrined in various customized operating manuals, which are continually updated.IndianOil also offers the specialized services of its experts for commissioning/start-up assistance depending on the client's need. Its team is also well-equipped to prepare operation manuals with clear instructions for plant start-up, operation, shutdown, emergency handling, etc.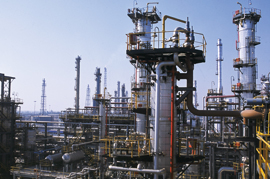 On the environment front, all IndianOil refineries fully comply with the statutory requirements. Several Clean Development Mechanism projects have also been initiated. With its vast experience in successfully implementing SH&E policy and practices at various units, IndianOil offers its services in ensuring that the client's work environment is safe, healthy and clean.
IndianOil also offers faculty assistance for customised training programmes that suit the requirements of refinery or pipelines personnel on all facets of downstream hydrocarbon sector. Innovative strategies and knowledge-sharing are the tools available for converting challenges into opportunities for sustained organizational growth.
IndianOil's Refineries teams have a deep understanding of the complexities of all the process units of modern refineries. Having successfully managed almost all types of refinery process units and with highly skilled & dedicated teams of engineers with an extensive experience and expertise in the downstream oil sector for over four decades, IndianOil is offering its services in the downstream hydrocarbon sector through consultancy assignments such de-bottlenecking / revamps, commissioning / start up assistance, operation & maintenance, technical services assistance etc. in the areas of refining, pipeline transportation, marketing and R&D activities. IndianOil also provides technical advice to its clients in the areas of troubleshooting and has Technical Services Agreements with some of its clients.