Barauni Refinery
History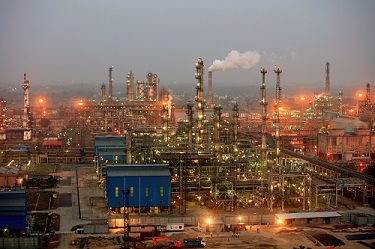 The second refinery of the country, Barauni Refinery, in the Bihar state of India, was built in collaboration with the Soviet Union at a cost of Rs. 49.4 crores and went on stream in July, 1964. It is situated 125 kilometres (78 mi) from Patna and was commissioned with a refining capacity of 1 million metric tonnes per annum (MMTPA) to process Assam (Naharkatiya) crude oil. The refinery was dedicated to the Nation by the then Union Minister for Petroleum, Prof. Humayun Kabir on 15th January 1965.
The initial capacity of 1 MMTPA was expanded to 3 MMTPA by 1969 with commissioning of AVU-2 and AVU-3. In its continuous endeavour to improve performance Additional Coker Unit and LPG Recovery Unit were commissioned in 1986. These provided a boost to the LPG yield of BR and increased the distillate yield. As a step towards producing unleaded motor spirit, a Catalytic Reformer Unit (CRU) was added to the refinery in 1997 and Barauni Refinery was accredited with ISO-14001. Haldia Barauni Crude Pipeline (HBCPL) was commissioned in 1999 paving way for un-interrupted crude supply to Barauni Refinery. The Refinery capacity was revamped to 6.0 MMTPA and matching secondary processing facilities such as Hydrogen Generation unit (HGU-1), Residue Fluidized Catalytic Cracker unit (RFCCU) & Sulphur Recovery Unit (SRU) were added in 2002 for technological advancements. For production of BS-II complaint high speed diesel, Diesel Hydro treating (DHDT) unit was also commissioned in the same year. Supply of Xtra Premium High Octane Petrol was implemented from July 2004. While BS-III complaint HSD was dispatched from April 2005 after in-house revamp of DHDT Unit.
Moving to Green fuels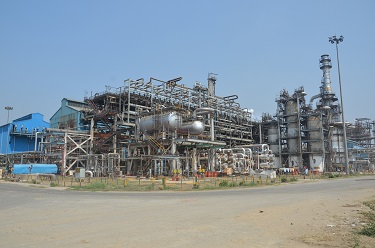 Barauni Refinery was earmarked for its operational excellence in 2009 after winning the TPM excellence award in Category A. State-of-art eco-friendly technologies enabled the Refinery to produce environment-friendly green fuels complying with international standards. Barauni Refinery fully switched over to BS-III diesel w.e.f 1st June 2010. 1st batch of BS-III petrol was dispatched through Barauni Kanpur Pipeline (BKPL) on 13th August 2010. Bihar & Jharkhand was declared BS-III compliant since September 2010. New units like NHDT and ISOM for Motor Spirit Quality up-gradation were added in 2010.
In 2017, Coker - A unit was revamped for improving the reliability and energy efficiency of the unit. A New Bitumen unit with Biturox Technology was commissioned on 16th Jan'17 facilitating increased high sulfur crude processing capability at BR. In line with the auto-fuel policy 2025, Barauni Refinery started dispatch of BS-IV compliant diesel and petrol w.e.f Jan 2017.
Stream Sharing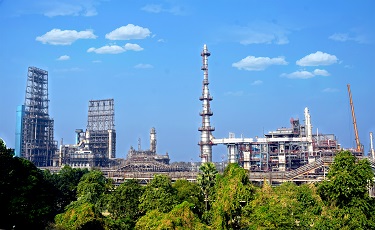 To cater to the Crude requirement of Guwahati Refinery arising out of reduced Assam Crude supply, Barauni Refinery developed a facility to load LS crude in rakes utilizing the black oil gantry and started dispatching Crude oil from Jan'17 to Guwahati Refinery. DHDT unit was revamped and its capacity was increased from 2.9 MMTPA to 3.3 MMTPA for increased BS-IV HSD production. Prime G quality revamp was successfully completed to enhance BS-IV MS production as well as to facilitate HS crude processing. Bitumen production through Biturox unit commenced on sustained basis post revamp of Prime G unit. VG-40 grade Bitumen was produced and first TT loading of VG-40 was commenced on 21st Dec'17.
Transition to Auto Fuels
With a purpose to produce green fuels, Barauni Refinery commissioned new Prime G+ unit in August 2019. Prime G+ unit is part of BS-VI project undertaken by Barauni Refinery to comply with BS-VI fuel norms as mandated by MoPNG to roll out BS-VI quality auto fuels with effect from April 2020. With commissioning of this plant, Barauni Refinery will be able to produce BS-VI quality MS. The objective of the unit is to reduce sulfur content of Light Cracked Naphtha (LCN) gasoline as well as part of the Heavy Cracked Naphtha (HCN) gasoline, coming from the RFCC unit in order to meet the BS-VI fuel specification with 10 ppm sulfur. A licensed unit by M/s Axens, France, the design capacity of the new grass root Prime G+ unit is 486 TMTPA and the integrated capacity of old, revamped and new Prime G+ units now stands at 840 TMTPA. With replacement of catalyst in DHDT Unit, Barauni Refinery is prepared to produce BS-VI quality HSD. The secondary units of ARU & NSU were also successfully commissioned. Barauni Refinery despatched the 1st batch of green fuels, BS-VI grade diesel and motor spirit on the auspicious day of Dhanteras, 25th October 2019, becoming the second Refinery of IndianOil to achieve the mammoth milestone well ahead of the target, 1st April 2020, set by MoPNG. With conversion of existing products in the pipeline and tanks into BS-VI, Barauni Refinery became 100% BS-VI compliant in December 2019. Construction of other NHT and CCR block to augment BS-VI MS Production are going in full swing.
Product Profile

Barauni Refinery is primarily a diesel producing Refinery with over 54% of its product mix as HSD. Other products include kerosene, petrol, LPG, Naptha, Raw Petroleum Coke (RPC), sulphur and bitumen. It caters to fuel demands of the states of Bihar, West Bengal, Uttar Pradesh, Jharkhand and Madhya Pradesh. Nepal Oil Corporation also sources it's fuel including LPG from Barauni Refinery. Currently, over 42% of dispatch of products at Barauni Refinery is through road followed by pipelines and rail.
Make in India technologies
Under Make in India initiative, Coker revamp & DHDT revamp were done in 2017. Additionally, setting up of new INDjet unit for conversion of kerosene to Aviation turbine fuel (ATF) and for production of petrochemicals, a Polypropelene unit shall bring the State of Bihar in the foray of technological advancements.
Community Welfare
Barauni Refinery through its welfare schemes and community development initiatives is undertaking a number of developmental activities for the district of Begusarai. Currently, three schools are operational in its township premises, Kendriya Vidyalay, BR DAV and Kidzee which are shaping and moulding personalities of over 5000 students of Begusarai resident families through quality education and training. Regular apprenticeship training is provided to unemployed youth of Bihar for enhancing their employability. Barauni Refinery Skill Development Centre is training unemployed youth in employable skills of carpentry, welding, fitter and electrician. With launch of yearly scholarship schemes of Shri Krishna Singh Chatravitti Yojna and Dinkar Uccha Siksha Sahayata Yojana, Barauni Refinery is providing platform for local students from BPL families to complete their higher studies and professional courses to live their dreams. Sponsoring of young unmarried girls for nursing courses has given boost to women empowerment in the region. Establishment of RO plants in villages is another drive to provide clean drinking water to the local residents.
Environment Sustainability
The motto of Barauni Refinery is "In harmony with nature". With this guiding principal, Barauni refinery is committed to protecting and preserving environment for a better future for our generations. With this purpose, 1.0 MWp grid interactive distributed Solar PV system was commissioned in July, 2016 which generates about 15 lakhs units of green energy annually & mitigates equivalent annual CO2 emission of about 1315 tons. The system was first of its kind in terms of its capacity in any of the refineries of IOCL. Another 1.0 MWp Ground Mounted Solar Park was set-up in 2017 being the first-of-its kind in the IndianOil refineries sector, which generates nearly 12 lakh units of green energy annually and mitigates equivalent annual CO2 emission of nearly 1120 tons in addition to existing mitigation. RO Plant was commissioned in Feb 2018 for fulfilling IOC's commitment towards sustainable development and reducing the consumption of fresh water by about 100 m³ / hr. The total green belt area in Refinery and township is 230.58 acres which is 26% of the refinery area. 21 nos. of rain water harvesting projects have been implemented in Refinery and Township since 2011. 100% rain water is being harvested in township. MINAS standard as given by MOE&F is complied through ETP / BTP modernization project. Further, treated effluent water inside refinery is reused 100%. For disposal of hazardous waste, mechanized skid process for oil recovery from oily sludge, bio-remediation of residual oily sludge and co-processing spent catalyst in Cement industry are being done. Furthering its commitment to environmental protection, in Jan 2019 Barauni Refinery constructed a confined space Bio-remediation facility near ETP for bio-remediation of residual oily sludge generated after processing of oily sludge. This system replaced earlier practice of bio-remediation in which residual oily sludge was bio-remediated in an open lined pit. The earlier system took 8-10 months for remediation while the same amount can be bio-remediated in confined space bio-remediation in 3-4 weeks.
Way Forward
Capacity of Barauni Refinery is being enhanced under the BR expansion project which is targeted to reach 9 MMTPA by 2024. Expansion project also includes development of petrochemical facilities.