Natural Gas
Drawing on its vast experience and carefully nurtured skill sets, IndianOil has made successful forays in diverse areas such as Natural Gas, Petrochemicals, Exploration & Production, Renewable Energy, etc.
Over the years, Natural Gas has emerged as the 'fuel of choice' across the world. It is steadily replacing traditional fossil fuels due to its environment friendly characteristics which help in meeting the stipulated automobile emission norms. Natural Gas has significant cost advantages over fuels such as Naphtha and commercial LPG.
IndianOil took up natural gas marketing in 2004 and has established itself as the second largest player in natural gas in India. The Corporation has been investing across the Natural Gas value chain, scaling up LNG sourcing, import terminals, pipelines, city gas distribution networks and 'LNG at the Doorstep' service on a continuous basis.
LNG at Doorstep
The "LNG at Doorstep" initiative involves making LNG available to the customers not connected by gas pipeline. Gas is transported through a cryogenic system, stored in a cryogenic holding tank at the target location and re-gassified on-site through vaporizers for use as fuel. The entire operation, being concealed, eliminates the possibility of adulteration and pilferage. Introduced in 2007, this initiative has been well received and is attracting more customers located away from the pipelines.
As co-promoter of PLL (Petronet LNG Ltd.), which has set up LNG (Liquefied Natural Gas) import terminals at Dahej and Kochi, IndianOil has marketing rights for 30% of the LNG procured by PLL.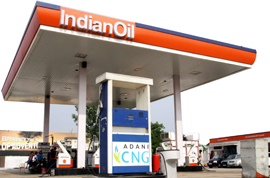 IndianOil currently operates city gas distribution (CGD) networks in Agra and Lucknow through Green Gas Ltd., its joint venture with GAIL (India) Ltd. It is also implementing CGD projects in Chandigarh, Allahabad, Panipat, Ernakulam, Daman, Udhamsingh Nagar and Dharwad through a joint venture with M/s. Adani Gas Ltd. (M/s. IndianOil-Adani Gas Private Limited (IOAGL) . IOAGL's CGD networks in Chandigarh, Allahabad have already been commissioned.
IndianOil, through its Joint Venture Company, IndianOil LNG Pvt. Ltd., has developed a 5-million metric tonnes per annum (MMTPA) capacity Liquefied Natural Gas (LNG) Terminal at Kamarajar Port, Ennore in Tamil Naidu, at a cost of Rs. 5,150 crore. The Ennore Terminal is the first LNG terminal on the east coast in South India, located in Tamil Naidu, which is an untapped natural gas market.
IndianOil holds equity LNG of 1.3 MMTPA on FOB basis for a minimum of 20 years in the Pacific NorthWest (PNW) LNG Project in British Columbia, Canada.

IndianOil is developing three natural gas pipelines - Mehsana-Bhatinda, Bhatinda-Jammu-Srinagar and Mallavaram-Bhopal-Bhilwara-Vijaipur - through JVCs.