Gujarat Refinery
IndianOil Gujarat Refinery was dedicated to the Nation in 1966 changing the landscape of a town, a state and the country. Today, Gujarat Refinery is the Flagship Refinery of IndianOil.
The expansion in Gujarat Refinery has taken place in phases over the years from 2 Million Metric Tonnes (MMT) per year to the present capacity of 13.7 MMT per year and is gearing up for further expansion. Gujarat Refinery and the city of Vadodara have been witness to each other's phenomenal growth.
Today, Gujarat Refinery is the Mother Industry of Vadodara and is catering to the increasing energy demand due to the fast-paced development and economic prosperity of the vibrant state of Gujarat. The Refinery has been playing a catalytic role in encouraging over 200 small and big industries over the course of five decades.
One of the most complex refineries in India, Gujarat Refinery has about 40 operating units. Over the course of five decades, the Refinery has kept up with the latest technological advancements and boasts of every modern unit and technology that is available in the IndianOil Oil & Gas industry today.

Gujarat Refinery is also privileged with the distinction of setting up the country's first riser Fluidized Catalytic Cracking Unit (FCCU) in 1982 and the first Hydrocracker plant in 1993. The country's first Diesel Hydro Desulphurization Unit (DHDS) to reduce sulphur content was set up in 1999 to meet BS-II quality of HSD. MS Quality Improvement Project comprising of Continuous Catalytic Reforming Unit (CCRU) and revamp of DHDS were carried out in the years 2006 and 2007 respectively to meet BS-III MS and HSD quality respectively. Further, the Resid Upgradation Project (RUP) and MS/HSD quality improvement project were commissioned in 2010-11. Gujarat Refinery is now gearing up for supply of BS-VI fuels and capacity expansion to 18 MMT per year.
In 2004, the world's largest single train Linear Alkyl Benzene (LAB) Plant was set up in the refinery marking IndianOil's big-ticket entry into the Petrochemicals field. Today, the refinery holds the 2nd largest market share of LAB in India and exports to over 20 countries.
Gujarat Refinery's flexibility to process various crude types allows it to meet stringent quality and environmental norms. The Refinery processes indigenous and imported crudes into LPG, petrol, diesel, ATF and other value added petroleum products. Gujarat Refinery has started producing low-sulphur marine fuel (MARPOL) with 0.5WT % sulphur to meet the IMO specification of marine fuel, thus symbolically marking a significant change in the marine fuels landscape as MARPOL will enable reduced pollution from marine and shipping operations.
The green belts, spread across an area of 148 acres in and around the refinery speak volumes about its commitment towards environment. With more than two lakh strong tree population Gujarat Refinery's three green belts act as lungs for the refinery. A beautiful Eco Park has been developed inside the green belt area surrounded by the pond which is a haven for various bird species.
Gujarat Refinery has full-fledged Effluent Treatment Plants consisting of physical, chemical, biological & tertiary treatment facilities. Various measures have been adopted for control of gaseous emissions. Water conservation is another important area being vigorously taken up in refineries through its quality control, re-use of treated water and maximum use in cooling systems.
It has strong safety management system and infrastructure with focus on behavioral safety.
Being an integral part of the city of Vadodara, Gujarat Refinery is committed to improving the quality of life in communities in and around the refinery and the city. Under CSR initiatives Gujarat Refinery has taken up projects for ensuring Clean Drinking Water, Health and Medical Care and Education in the nearby villages and communities.
Guided by its corporate values of Care, Innovation, Passion and Trust, IndianOil's Gujarat Refinery is committed to ensuring greater self-reliance in supplying the vital energy products thereby bringing greater growth and prosperity in and around Western India and the State of Gujarat.
Commissioning of revamped DHDS unit at Gujarat Refinery with indeDiesel Technology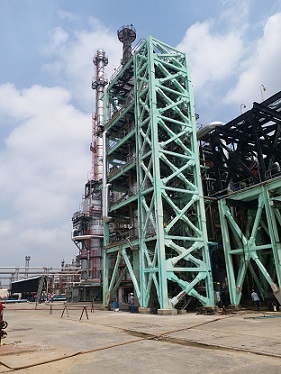 The commissioning of DHDS unit at Gujarat Refinery as revamp project was successfully done on 20th September, 2018 employing indigenous diesel treating technology, indeDiesel developed by IndianOil R&D in collaboration with EIL. The unit capacity has been augmented from 1.77 to 2.2 MMTPA producing diesel product having Sulphur below 10 ppmw from a feed containing up to 1.0 wt% Sulfur. The unit was originally designed by foreign Licensor, M/s UOP.
The revamp objective being capacity enhancement and quality upgradation, necessitated installation of a new reactor and heat exchange train including a fired furnace along with replacement of critical equipment such as Recycle Gas Compressor, Feed Pump, etc. The new train with single reactor is processing 56 wt% of the fresh feed, while the balance fresh feed being processed in existing train of two reactors in series. With such major modifications, the revamp assumed a mantle of a grass-root unit and lasted over two months.
The installation of 3rd indeDiesel unit at Gujarat Refinery, after first 1.2 MMTPA grass-root DHDT unit at Bongaigaon Refinery in 2011 and second revamped DHDT unit at Gujarat Refinery of 2.86 MMTPA capacity in 2017, has firmly established the indeDiesel technology as mature and reliable for employment in hydrotreating of diesel for meeting BS-VI/Euro-VI specifications.
With the commissioning of medium pressure DHDS unit and high pressure DHDT unit at three refineries, indeDiesel technology has reached an inflection point and is poised for consideration during the expansion of all IOCL refineries and beyond, meeting the BS-VI requirement. This show-cased one more technology of IndianOil under "MAKE IN INDIA" initiative.