Download Corporate Logos
---
Use of IndianOil logo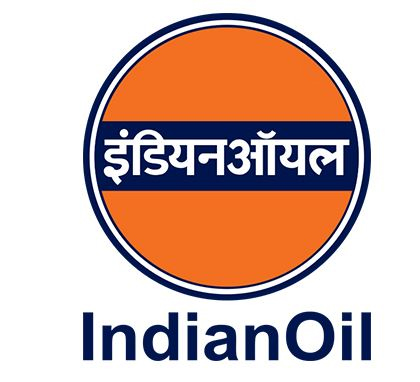 This is the registered logo of IndianOil. However, whenever the logo is not accompanied by the full name "Indian Oil Corporation Limited", the lettering "IndianOil" in dark blue colour may be incorporated under the logo. The word "IndianOil" should be used as one word with the letter "I" and "O" in capitals as shown. It should be in a single colour (Dark Blue) and not in two colours.
The significance of the logo
The IndianOil logo essentially has the following elements
A saffron-coloured circle/globe
Enclosed by a dark blue coloured outer ring and a dark blue coloured band across on which is written the name IndianOil in Devanagri script
The saffron circle represents energy as a derivative of the Sun, connoting life and the future. The dark blue outer ring and the horizontal band symbolize technology for harnessing this energy.
For true reproduction, use the following colours
For Print/Electronic Media

Refer colour patch from "Pantone Colour Formula Guide 1000 for Paper" or the colour patch printed alongside:
Orange: 1655 C, Blue : 2757 C
The above colour code is to be followed for all kinds of print material, that is, annual report, brochures, leaflets, posters, dockets, stationery items, etc.

In case the logo is to be reproduced by process colours, the percentages in CMYK closest to the above are:
Orange : 1655 C, Orange : Y - 100, M - 70
Blue : 2757 C, Blue : C - 100, M - 80, K - 65
The percentages should be strictly followed for newspaper/magazine advertisements.
(C - Cyan, M - Magenta, Y - Yellow, K - Black)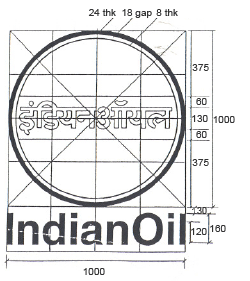 Proportions of the logo
For Enamel Printing/Painting:

The colours should match the Pantone colour swatches given above. The BIS specifications which are closest to the Pantone colour specifications are given below for convenience:
Orange : Indian Saffron - ISI No. 574

Blue : Aircraft Blue - ISI No. 108
For Textile Printing

The colours should match the Pantone colour swatches given above. The BIS specifications which are closest to the Pantone colour specifications are given below for convenience:
The colours used for banners, pendants, flags, etc. should also match the Pantone colour swatches given earlier. However, colour specifications from "Pantone Textile Printing Guide" which are closest to the Pantone colour specifications are:

Orange : 16-1362 TP
Blue : 19-3925 TP