Sustainability
at IndianOil
Caring For
Environment
Economic
Performance
Giving Back
to Society
Promoting
Safety
Sustainability in
Supply Chain
Product
Responsibility
Ethics &
Human Rights
Featured
Stories
Approach to Sustainability
IndianOil perceives sustainable growth as an opportunity to enhance its business processes and practices, enabling it to positively impact its entire scope of business. The Company's values drive the belief that responsible businesses can be profitable, leading to investments in the technologies & products and new energy infrastructure that will help shape the low carbon future.
We see sustainable business practices as a defining element of competitiveness to maintain the Corporation's status, equity and standing, both in the market and in the society. Our attention is on what we produce; how we buy and sell; how we affect the environment; how we recruit, train and develop our own people, how we invest in the community and respect the rights of people.
IndianOil endeavors to develop its group businesses to deliver long-term strategic benefit and shareholder value by maximizing synergies that sustainable development provides.
Our societal obligations stood out even in our formative years, while we supported the mission of the Defense Forces to preserve the integrity of the nation, kept the home fires burning in rural India, fueled major transport undertakings and worked on being a `national trust for economic prosperity.' The same obligations continue with renewed vigour, as we strive year after year, to grow our business to meet the Nation's energy needs, and at the same time increase stakeholder value, exploring the prospect of alternative fuels and engaging people for optimum utilization of energy.
Driving Sustainability in IndianOil
IndianOil is committed to integrate its sustainability initiatives into business strategy to continue to grow as an environmentally responsible and socially inclusive organization. IndianOil has formed a Board Committee on Corporate Social Responsibility and Sustainable Development (CSR&SD) at the apex level, which guides and monitors the initiatives related to Sustainability & CSR. The 'Alternate Energy & Sustainable Development' Group, formed at the corporate level, under Planning & Business Development vertical, implements action plans to address the environmental issues viz. climate change, global warming, etc.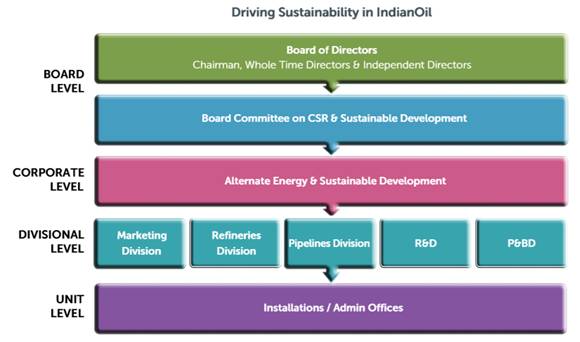 Read more
Caring for Environment
Climate change is a global concern. As national Oil & Gas major, IndianOil realizes that its' business operations and petroleum product offerings have an adverse impact on the environment. As a responsible corporate citizen, the Company takes onus to mitigate its ecological footprint and to help the supply chain & society lower their environmental impact.
IndianOil undertakes major efforts to reduce its operational emissions, conserve water, manage waste, offer green fuels and to protect the environment. The company complies with various regulatory norms, promotes sustainability initiatives in supply chain and undertakes various awareness generation exercises to promote sustainable consumption and reduce its ecological footprint.
Read more
Economic Performance
In an effort to meet the nation's energy demands and be the Energy of India, IndianOil has developed its long-term strategic approach to optimize synergistic value creation for its stakeholders while mitigating future risks. The company's strategy lays emphasis on keeping pace with the dynamic business scenario being agile and responsive in adapting to global and domestic market trends and maintaining its leadership position in the market.
The company's strategic intent is to be a future ready organisation, to be able to exploit emerging opportunities and mitigate potential risks to accomplish this objective. IndianOil nurtures a culture of innovation and technological advancement and at the same time leverages its core competence in infrastructure and reach to stay competitive in the market. The company also fosters a conducive environment for research and innovation to enhance efficiency, reliability, productivity and safety in its business operations. IndianOil is committed to providing energy access to the rural population through enhancing its geographical reach. The company is making significant efforts to usher in clean and green energy alternatives to mitigate the risks of global warming.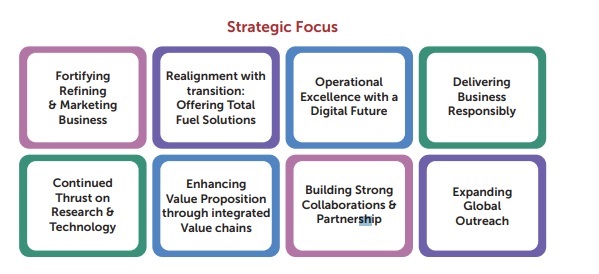 Read more
Giving Back to the Society
As a responsible corporate citizen, IndianOil undertakes a number of social welfare and community development programmes. With pan India presence, IndianOil undertakes CSR activities across the country, from Leh in J&K in the North, to the North Eastern States, to the aspirational / backward districts/ naxal affected areas, to Gujarat in the west and Tamil Nadu/Kerala in the south. The local gram panchayats, district administration, NGOs and social workers are involved to ensure maximize the outcome of the CSR projects.
Promoting Safety
IndianOil's commitment to safe work places is reflected in the well-established, world-class safety management systems at all its operational locations. Safety management is an integral part of management ethos of the company and the highest priority is accorded to safety & occupational health.
IndianOil diligently follows the standards laid down by the Oil Industry Safety Directorate (OISD) on matters of safety & occupational health. All refineries are certified to Occupational Health & Safety Management System (OHSMS/OHSAS018001), besides having fully equipped occupational health centres.
Read more
Sustainability in Supply Chain
IndianOil undertakes various measures to reduce environment impact and promote social values in its supply chain. The company strives to extend its sustainability culture to its vendors and business partners which in turn helps them to run the business responsibly.
Product Responsibility
IndianOil has been continuously improving its product offering by focusing on efficiency improvements. IndianOil balances its products so that they match up to customer requirement for fuel quality, efficiency and lower emissions, while maintaining wide scale availability and affordability.
Some of the major product improvements include offering of BS-VI grade fuel of world's cleanest standard, increase in ethanol & biodiesel blending in vehicular fuels, promoting value added fuels like xtraPremium, supplying of cleaner LPG fuel to rural areas, undertaking various renewable energy projects and promoting natural gas as vehicular fuel / cooking fuel in cities.
Read more
Ethics & Human Rights
At IndianOil, every person is recognised to have a right to life & liberty, freedom from slavery & torture, freedom of opinion and expression, right to work and education, amongst others. IndianOil conducts business on the basis of its core values and support universal human rights for employees and communities. IndianOil prohibits child labour, forced labour and discriminatory behaviour and also ensures that its business partners also comply in their organization. Initiatives like allotment of dealership/ distributorship, petty contracts, CSR initiatives, etc. are regularly undertaken for upliftment of the disadvantaged, vulnerable and marginalized external stakeholders.
IndianOil installations are monitored and reviewed periodically to ensure compliance to human rights. IndianOil provides equal opportunity in recruitment, career development, promotion, training and rewards for all employees, without discrimination on the basis of caste, colour, gender, religion or region.
The company is at the forefront of nation building and remains accountable to its stakeholders. In an effort to enhance transparency, fairness and competitiveness at all working levels, IndianOil has adopted and implemented the Integrity Pact (IP) Program, e-tendering for procurement of goods and services, RTI (Right to Information), Citizen's Charter and Vigilance setup. All relevant guidelines and product related information are available on corporate website.
IndianOil has defined Code of Conduct for its Board of Directors, Senior Management and all employees. The company conducts business on the basis of its core values and support universal human rights for employees and communities. IndianOil prohibits child labour, forced labour and discriminatory behaviour and also ensures that its business partners also comply in their organization.
Read more