Indane XTRATEJ – Commercial and Industrial LPG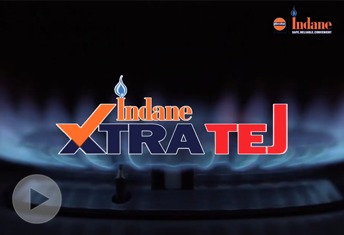 Indane is today one of the largest packed-LPG brands in the world and has been conferred the coveted Consumer Superbrand status by the Superbrands Council of India.
IndianOil markets its differentiated LPG with nano-additive under the brand name Indane XTRATEJ, for commercial and industrial applications. Indane XTRATEJ results in reduced fuel consumption and more savings, due to the improved heat output/efficiency. This has been possible with the indigenous additive developed by IndianOil's R&D division.
Indane XTRATEJ has been evaluated in laboratories and validated at customer sites during the field evaluation. The following benefits have been observed during the field trials:
Savings of minimum 5% in consumption of LPG at different customer sites.
Reduction in cooking time by minimum 14% when pressure cooking
Increase of flame temperature by minimum 65 degrees Celsius at select customer sites
A minimum savings of 5% in the use of LPG and rise in flame temperature by minimum 65 degrees Celsius have been independently verified and certified by Shriram Institute for Industrial Research, Delhi
FAQs
1. What is Indane XTRATEJ?
Indane XTRATEJ is an additized LPG used in various commercial and industrial applications. It is enhanced with additives developed through cutting-edge Nano technology at IndianOil's R&D Centre. Indane XTRATEJ has been developed for industrial and commercial purposes only and not for domestic use.
2. What are the benefits of Indane XTRATEJ?
The flame temperature of Indane XTRATEJ is higher by minimum 65 degrees Celsius. This leads to the following benefits to the customers:
Minimum 5% savings* in consumption of LPG
Minimum 14% reduction* in cooking time
3. Indane XTRATEJ is available in which capacity cylinders?
Indane XTRATEJ is currently marketed in 19 kg, 47.5 Kg & 425 Kg capacity cylinders.
4. Is Indane XTRATEJ available in my city?
IndianOil has plans to market Indane XTRATEJ across the country. Presently, it is available in select districts. For any queries call our toll-free number 18002333555.
5. What is the extra cost to be paid to avail Indane XTRATEJ cylinders?
Presently, IndianOil markets Indane XTRATEJ at a nominally higher rate than non-domestic cylinder. However, consumers may note that the savings incurred on switching to Indane XTRATEJ are substantial.
6. I am a customer of normal Non-Domestic LPG of IndianOil. Can I get Indane XTRATEJ?
Yes. Existing customers of non-domestic Indane cylinders (19 Kg, 47.5 Kg and 425 kg) can avail Indane XTRATEJ. They may ask the supplying distributor for the change-over.
7. Is Indane XTRATEJ Cylinder different from normal Non-Domestic cylinder
Indane XTRATEJ cylinders have the same dimensions as a regular non-domestic cylinder with Indane XTRATEJ logo on 19 Kg and 47.5 Kg cylinders.
*Observed in trial marketing and lab conditions
*Observed in trial marketing and lab conditions
Click here to locate distributors selling Indane XTRATEJ near you