IndianOil continues to transform lives of Juveniles
New Delhi 18-Apr-2023
We are committed to empower juveniles under 'Nayi Disha' program"- Chairman IndianOil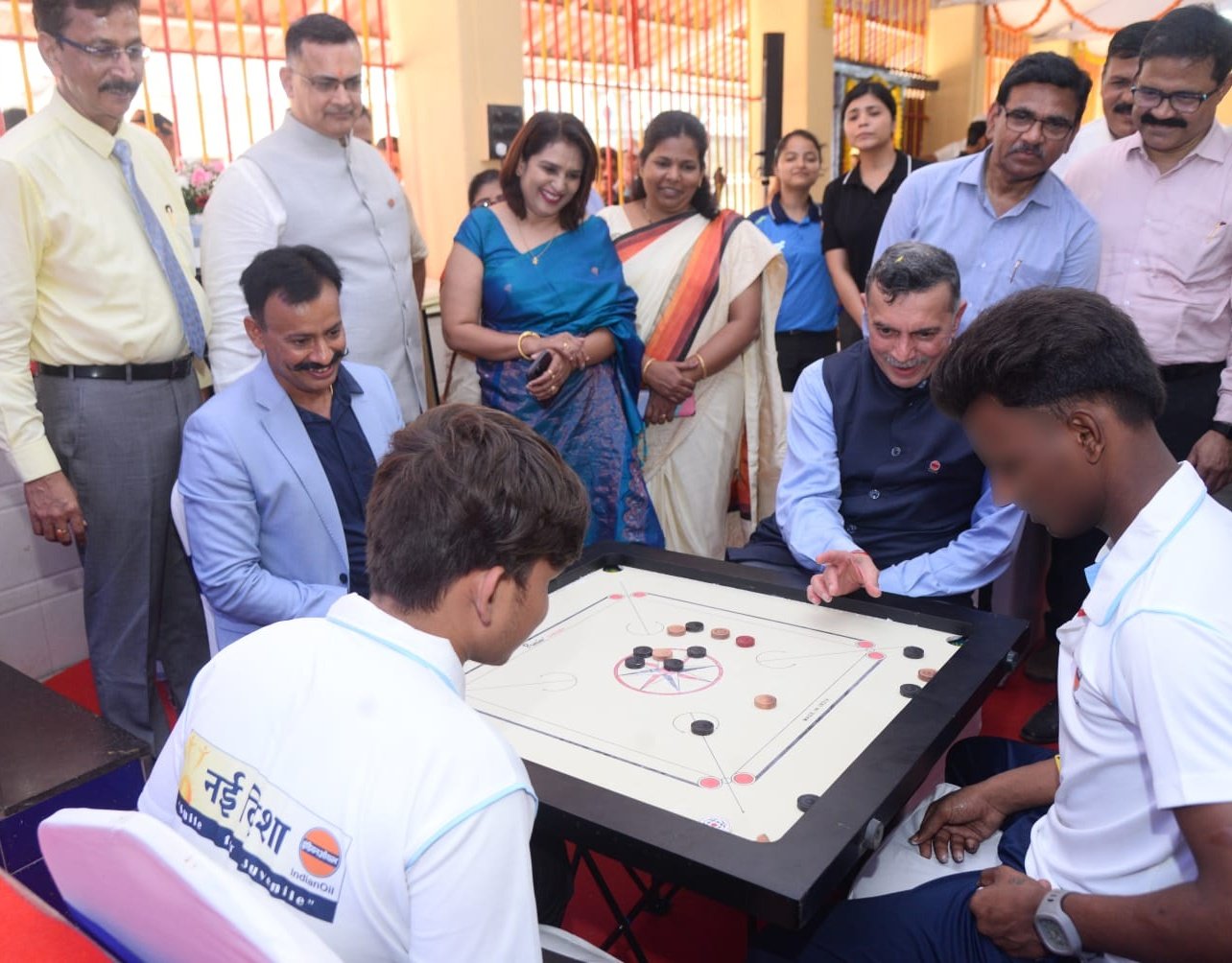 Mr Shrikant Madhav Vaidya, Chairman, IndianOil, visited the Children's Observation Centre at Umerkhadi, Mumbai and interacted with the young inmates yesterday, as part of the Company's 'Nayi Disha - Smile for Juvenile' initiative. The initiative rolled out earlier this year is an offshoot to the 'Parivartan-Prison to Pride' that leverages the power of sports, by imparting coaching and equipment to inmates by IndianOil sportspersons. During the interaction, the young inmates shared their experience of the sports coaching and presented their paintings to the dignitaries.
Pledging IndianOil's commitment to the cause, Mr Vaidya said, "The positive energy of sports can improve mental and physical health of juveniles and help in their smooth social reintegration. After the success of 'Parivartan' and 'Nayi Disha' across the country, we aim to harness this positive passion and open new horizons of opportunities for the youngsters." Mr Vaidya also shared ideas on generating income for the inmates by showcasing their creative skills at IndianOil Retail Outlets (ROs). He also offered them the opportunity to serve as Customer Attendants at the ROs, after their release.
Appreciating the initiative, Mr Krishna Prakash, Special IGP (VIP Security), Maharashtra, said, "It is a great platform that would catalyse the integration of inmates into society with dignity and respect."
Ms Yashashree Marulkar, Principal Magistrate, Juvenile Justice Board (JJB), Mumbai City, Ms Rupali Patil, Principal Magistrate, JJB, Mumbai Suburban, Mr Rahul Kanthikar, Superintendent, Children's Observation Centre, Umerkhadi and IndianOil's Sportstars were also present on the occasion.
IndianOil's 'Nayi Disha' outreach is currently benefiting over 2500 young inmates at three Juvenile Correction Centres in Delhi, Mumbai, and Chennai. Since its launch in 2021, 'Parivartan' has covered 37 prisons spanning 20 states and 5 Union Territories, coaching over 1750 inmates in phases. The impact of the campaign came to the fore when Pune's Yerawada Prison Chess Team won the first-ever Bronze medal at the Intercontinental Chess for Freedom Online Championship for Prisoners, organised by the World Chess Federation in 2022.
Dr Uttiya Bhattacharyya
Executive Director (Corporate Communications)
Indian Oil Corporation Limited