IndianOil Campus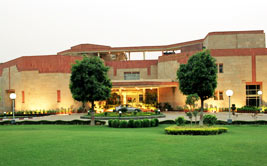 To meet the emerging challenges of post-deregulated era of the oil sector, IndianOil in 1995 set up the IndianOil Institute of Petroleum Management (IiPM) as an apex centre for learning. The only one of its kind in the petroleum sector, IiPM aims to create a vibrant bridge of knowledge managers to lead the Indian energy companies. Since the last 12 years, IiPM has been conducting global standard international business management programmes for executive along with various management development programmes.
The Institute, with its sprawling campus in 16 acres of lush green landscape, has excellent facilities to accommodate over 100 participants at a time. It also has a 10 executive suites block earmarked to accommodate the visiting faculty. The institute is centrally air conditioned with 100% power backup.
In addition to the modem infrastructure, the Institute has a well-equipped library, state-of-the-art computer facility, gym, a swimming pool and other amenities to provide a highly invigorating learning ambience.
As an ISO 9001-2000 certificate institute, IiPM has been awarded the Golden Peacock National Award for 'Innovative Training Practices' by the Institute of Directors (IOD), for 1998, 2000, 2005, 2006 and for the year 2007 as well. For the year 2006-2007, the Indian Society of Training & Development (ISTD) also presented the 'Innovative Training Practices' award to IiPM. It also received the 'Best Innovation in Teaching' award from the Association of Indian Management Schools for the year 1998-99.
With a mission to align the human resource with corporate business goals and to cater to the pressing organisational needs, IiPM has designed and developed the contents and pedagogy of unique programmes in the areas of Strategic and General Management, Human Resource Management, Marketing Management and Operations & Technology Management to meet the present and future challenges to manage and lead the workplace and organisation more effectively. Every year, IiPM conducts more than 35 short duration programmes for about 1200 senior executives. The Institute's programmes have been designed and developed based on the industry experience and inputs.
IndianOil has also been entrusted with the responsibility of training executives from various Iraqi oil companies by the Ministry of Petroleum & Natural Gas (MOP & NG) and the Ministry of External Affairs. Over the last one and half years, around 200 officials from the Iraqi oil industry have already completed their training at IiPM on various facets of the oil industry.
Over the years IiPM has evolved into a world-class centre of excellence in leadership development and has become a hub for meaningful interaction between the participants and business leaders from within and outside and best-in-class academia. IiPM, considered as being IndianOil's crucible, where its divisions, diversities and domain expertise fuse to create the integrated minds of future leadership.
IndianOil is also deputing its experts as faculty to impart training to reputed overseas business organisations like Petronas (Malaysia), Oman Refinery Company, Oman (ORC), Abu Dhabi National Oil Company (ADNOC), Qatar Refinery Company, Qatar (QRC), Nigerian Nation Petroleum Company (NNPC), etc. Recently, IndianOil has sent in-house experts to train executives of various Sudanese oil companies on pipeline operations & maintenance.
During the last 12 years of carrying out intensive training development research and consultancy activities, IiPM has sharpened its skills of imparting international standard management development programmes for executives performing in the highly competitive business of oil & gas. The Institute has a long-lasting academic partnership with premium management institutes like the Indian Institute of Managements (IIMs) based at Ahmedabad, Kolkata & Bengaluru, Management Development Institute (MDI), Gurgaon, International Management Institute (IMI), Delhi, Faculty of Management Studies (FMS), Delhi, and the Indian School of Petroleum, Dehradun, for designing of programmes and sourcing of expert faculty.
IiPM has also developed a comprehensive data bank on expert faculty members which enables designing & development and delivering highly Focused market-oriented programmes. It has the unique advantage of having information and access to the best faculty to train on the highly critical and significant areas of the ever-growing petroleum industry. Even the vast bank of the case studies, reading material and video films related to real-life business, gives it a noteworthy edge for imparting management education to working executives of the Indian industry in general and the energy sector in particular.